How to drain a Hyrda-elastic suspension
Why would you wish to do this.?
1)To replace the suspension with
coiled suspension
I am going to do
2)To enable access to the rear axles, or to
remove the clutch
(what I was doing as well)
3)To get back at your MG driving neighbour for an affront they have committed against yourself (insert own reason's here)
First you need to access the Bonnet area and remove the covering cowl from the front of the car. This is held in place by 2 plastic screws and 2 metal bolts on the drivers side. 2 Screws below the level of the spare tyre also complete the attachment.
With this done, you now see 2 valves, that look like bicycle valves. The Hydra-gas system is pressurised to 400 PSI, and when pressed in, these will expel fluid in a stream/spray.
De-pressurisation may be conducted in one of 2 way's;
1)you may wish to use a vacuum pump, or a Hydra-gas pump to remove the fluid.
2)You may wish to just use a plastic milk carton (2 litres) and a screwdriver
Here I've used the 2nd method, as I don't have ready access to a hydra-gas pump, and I plan on installing coil springs as well after.
Tools needed:
Safety knife- for cutting holes in the milk carton.
2 Milk cartons, one for draining, the 2nd for long term storage and disposal.
1 Screwdriver, Philips head preferred (the Star headed type.)
Tape, for covering holes when transference fluid from one carton to the next.
Once the water reservoir is removed, this just lifts straight out, you may place the milk carton in its place, with 2 holes poked in the top 25% of the carton.
One hole is for the insertion of one of the valves, each valve corresponds to the relevant suspension for one side of the car. Eg Left is left side, right is right.
The 2nd hole is used for placing the screwdriver through, this is now pressed into the Valve, allowing the fluid to rapidly escape the system.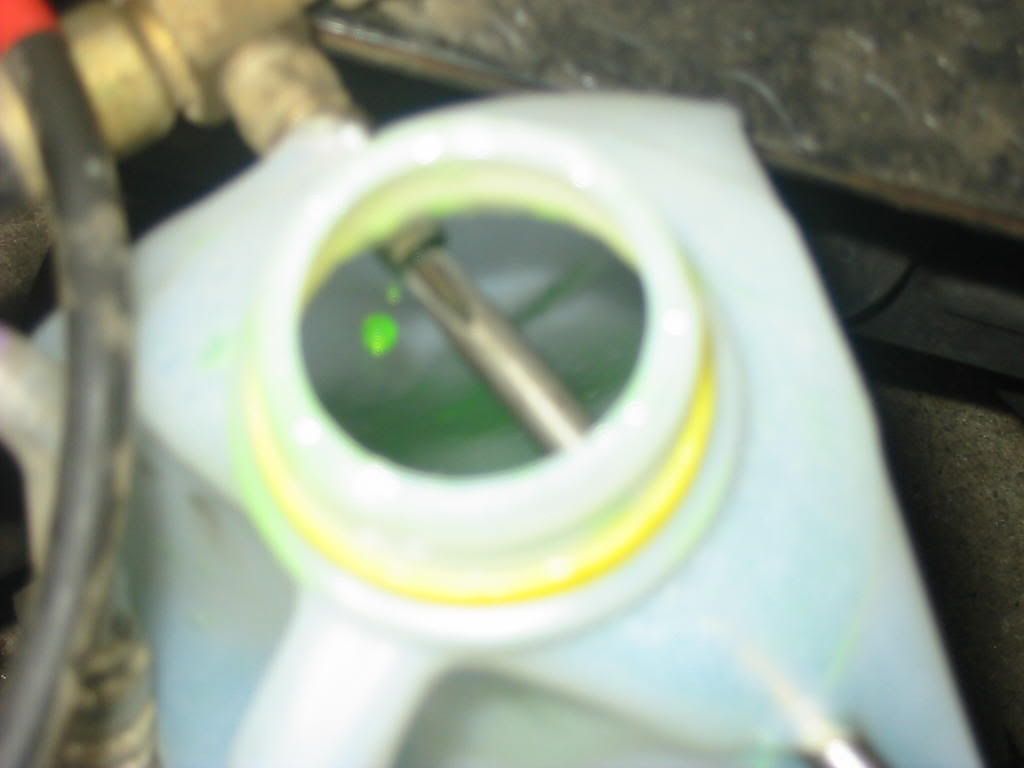 Usually about 500 Ml's or so of fluid will be removed for each side, until the pressure is abated.
Once one side has been drained, the 2nd may now be done.
The fluid, once removed, may now be stored into a 2nd container, and disposed of in a environmentally sound manner.
Any spills maybe cleaned up by applying water to dilute and disperse.