So, you want to go from this -
to
?
Well, start by getting hold of:-
B&Q - About £8-£10 for the sealant and gun thing...
B&Q - About £3 for like a million (I only used 4, and so did Andy)
ArgoCity - £8.50 including postage although there are other mesh stuffs that people use. Benefit of this is already cut to fit and in two halves making it easier to position...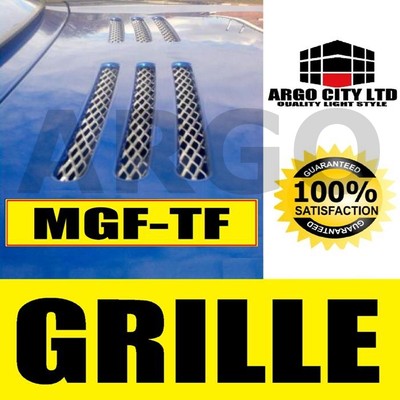 MGF MG TF FULLY ANODISED ALUMINIUM BOOT GRILLE KIT MGTF
Completed
Once you have all the bits above, you are ready to rock and roll
I had never used silicone before, I had never used a tube gun thing before and I'd never done anything like this... I managed on my own, took about 30 minutes once id worked out what I was doing... P.S. Double sided sticky foam doesnt work
So, start by getting your mesh in place and secure with two cable ties per side. This is done by pushing the mesh up through the open section on the underside of the boot and then rotating once inside the open space to run parallel with the vent slots. If youve got long arms and good sense of direction at weird angles, you can hold and slide a tie through. Would probably be helpful to have a second pair of hands though - once in place, tighten the ties but not excessively to damage paint work or make it too difficult to snip off later.
Andy went for the straight across:
I went for a diagonal and contradicting direction to minimise slippage:-
After this, its where the fun starts - I dont have any pictures of from when I did it but with the boot open and via the access slot, start by slowly squeezing a small amount of silicone between a hole in the mesh so its above the mesh and sticking to underside of the boot and as you pull away, squeeze some over the mesh so its essentially trapped in the silicone... TIP - dont cut the silicone dispenser thingy too low down otherwise you get too big blobs coming out and wont go through the holes...
Do this at 8 spots around each section of the mesh to ensure itll be stuck evenly at least. Then, and this is optional, I went silicone crazy and just squeezed stuff all over as I was enjoying it so much! But make sure the silicone doesnt over flow to the visible part of the mesh through the slots! Its easy to trim off with a craft knife but an unnecessary step if youre careful!
Thats pretty much it! Leave it to dry over night or for a day, up to you, but at least several hours. Give it a feel from top and bottom to make sure feels secure and silicone dry and solid. If youre confident, take your chosen cutting implements to the cable ties and hey presto, shiny boot vent bling!
These are the underside pics the world shouldnt see! I guess it could be tidied with a knife - or do it better to start with
Left side...
Right side...
If you want a look in person, myself along with Andy1970h and Softly-Softly have this mod (there are probably a load more too) so just ask!